Mz* Baltazar's Laboratory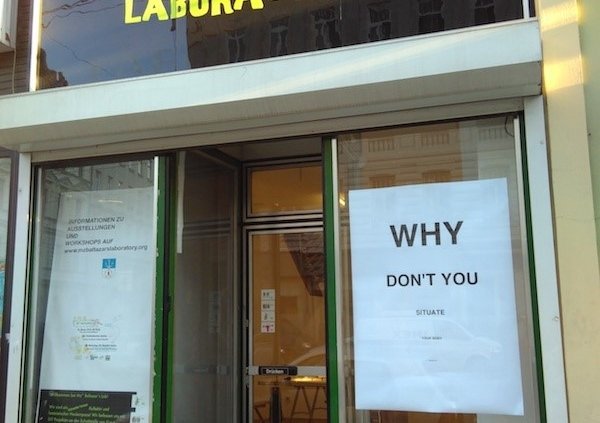 Excerpt
Mz* Baltazar's Laboratory is an artist collective that runs a feminist hacker-space. The lab organizes workshops, exhibitions and meetings, as well as open source hardware, electrical devices and material for rapid prototyping. The collective aims at generating a culture of fearless making, and an environment that fosters creativity, activism and provocative thinking!
Narrative, origins and objectives of the initiative
What kind of project is this? Please give a short description (summary) of it.
Mz* Baltazar's Laboratory is an artist collective that runs a feminist hacker-space. The lab organizes workshops, exhibitions and meetings, as well as open source hardware, electrical devices and material for rapid prototyping. Mz* Baltazar's Laboratory aims at generating a culture of fearless making, and an environment that fosters creativity, activism and provocative thinking! The lab tries to build an accessible, inclusive, open, safe and radical space from which to evolve as people and as a community. Open Source Technology is at the root of their philosophy as it enables Mz* Baltazar's Laboratory to share and collaborate without restrictions. The team of the initiative needs the space to experiment with things such as gender, hardware or "ourselves".
Please tell us why, in general, this project is considered a successful one?
Mz* Baltazar's Laboratory has been around for almost 10 years, during which it was able to build up an international network and gather around 350 artists/technologists/feminists in their community. The initiative continues to offer events to the local community that focus on the intersection of art/tech/feminism, but also internationally during workshops and art exhibitions. It all started because regular tech/art meetings tend to be frequented by male friends predominantly, so, as an experiment, Mag. Dr. Stefanie Wuschitz MPS started meetings for women* only. She enjoyed the outcome very much, so she hosted, together with Karin Jangert, Ramona Zadissa and Elmira Zadissa, an 'Eclectic Tech Carnival' in Northern Sweden, where she was based at that time. 'Eclectic Tech Carnival' is a festival format by the Genderchangers (Amsterdam) and can be adapted by former participants. As it was a wonderful event, the team continued to hold similar meetings after the festival had ended. When Mag. Dr. Stefanie Wuschitz went back to Austria, she started to hold these meetings under the name 'Miss Baltazar's Laboratory' in the oldest hacker-space of Austria's 'Metalab'. Metalab had only 2% female members, so the team decided to fund their own hacker-space. Depending on the collective that runs the hacker-space, they focused more on the art perspective, the tech perspective or the feminist (activist) perspective. There are currently only artists in the collective, so Mz* Baltazar's Laboratory holds more exhibitions than at the beginning, offering women and non-binary and transgender artists the opportunity to have a fair and nurturing environment in which to show their artwork. By 'women' Mz* Baltazar's Laboratory refers to people who define themselves as non-binary, female or trans. Basically Mz*BL only excludes cis-men, people who are socialized as men, performing masculinity without reflecting upon the consequences.
And why would you consider it a grass-roots initiative?
The collective consists of 5 artists who usually don't get paid for the maintenance of the lab and the work that goes into keeping the whole thing going. The team members are all equal in this collective and anyone is welcome to join. People who organize particular workshops and who present these workshops are paid. Mz* Baltazar's Laboratory is not part of any party, institution or larger organization; it is funded through the Austrian arts council and sometimes by the city of Vienna.
What challenges needed to be solved in this project?
At the beginning the collective had different roles that came with different responsibilities. For around 5 years the main active group tried to distribute duties more organically, depending on time and availability of each member. It is therefore important to ensure that the entire project group receives the same information so that everyone is able to be absent for a short time if necessary. An other challenge for Mz* Baltazar's Laboratory is it's door policy. Usually they only allow women* and non-binary folks to their workshops. But sometimes it's not possible, particularly if they are invited to do a workshop on a different platform or the workshop host does not feel comfortable with their door policy. So sometimes Mz* Baltazar's Laboratory makes an exception and also allow cis-males take part in the workshops. The exhibitions and performances are open to all genders. But the door policy is always an issue that needs to be defended/discussed/adapted.
Another issue is to get really young people into Baltazar's team of organizers, since the organizers have known each other for a long time and new people in the team have a hard time 'tuning in'. New people that join, usually leave again after 1 or 2 years.
It's also still a challenge to get parents to attend. At the beginning Mz* Baltazar's Laboratory offered a babysitter and they had a group that met regularly called 'motherboards', where mothers held workshops for each other while the babysitter entertained their kids. However, with kids getting older and with more newborn babies at the same time, the needs of the children became too different for only one babysitter. Many people with babies have problems with attending Baltazar's events, because most of the events are in the evenings.
Is this initiative based on any particular theoretical framework? Which one?
Feminism, Queer-feminism, Inter-sectional feminism, Open Source Culture, Media Art:
Judith Butler: Gender is constructed and we are crafting ourselves by deciding who we are surrounded by (and give account of ourselves towards).
Paulo Freire: Pedagogy of the Oppressed: Learning is gaining autonomy and critical thinking.
Donna Haraway: Embrace technology, but be aware of its inherit power relations and own it through developing your own approach towards it.
http://dpi.studioxx.org/en/feminist-hackerspaces-safer-spaces
https://www.academia.edu/24232869/Feminist_Hackerspaces_The_Synthesis_of_Feminist_and_Hacker_Cultures_2014_
(Appendix) Is your intervention standing on its own or is it a part of a bigger and more holistic approach?
Please describe the group(s) intended as beneficiaries of this initiative
Why has this group (have these groups) been chosen?
The target group of Mz* Baltazar's Laboratory are female identified persons and non-binary persons as they are a minority in the media art world - and even more so in open-source technology and in the development of open-source technology. Also, in the classical STEM fields, cis-males are still the standard and the norm that newbies have to adapt to or bend towards. Since not only techy people, but also media artists and designers, need to develop their own technologies for their artwork, they are unfortunately discriminated on many levels during their practice - in the developing phase, learning the hardware and software they need (androcentric network and education), in the building and prototyping phase when they need to go to a tech space or workshop to build their work, and in the representation phase when they show their work in a gallery or museum. Mz* Baltazar's Laboratory  tries to offer an alternative.
Could you please tell us something about the relative size of the (of each) target group, within the school/university population, region and/or country?
In the open hardware development scene, around 1% is identified as female. ARTnews published that, of all the solo exhibitions since 2007 at the Whitney Museum, only 29% were hosted by women. Of all the solo exhibitions at the Centre Pompidou since 2007, only 16% were allocated to women. In the Hayward Gallery UK, only 22% of solo exhibitions have been dedicated to female artists over the past seven years, and the Tate Modern has granted women artists solo exhibitions only 25 % of the time since 2007 (Reilly, 2015).
However, Baltazar's target group of female and non-binary persons is around 60% of the Austrian population.
In the last years we offered workshops at the following universities:
University of Michigan, Ann Arbor
Kunsthochschule Kassel, Kassel
Institute of Contemporary Art, Moscow
Bartlett University College London
Shih-Chien University, Taipei
Lecture, School of Visual Arts, NYC
Umeå Institute of Design, Sweden
In Austria it was mostly the two art universities that either invited Mz* Baltazar's Laboratory for workshops (or their students union invited them) or members of the collective were/are part of the staff.
Mz* Baltazar's Laboratory is currently closely collaborating with the FH Technikum (polytechnic college), because they only have 18% women* students. There is a 'diversity manager' who tries to change that, but there is no awareness whatsoever among other staff members. However, there is one person who wants to change the situation together with the diversity manager and invited the Mz* Baltazar's Lab to give workshop in their little student-run fab lab (projectKitchen). Last year the team of Mz* Baltazar's  organized a lot of workshops this way, but this year they only got permission to do 4 workshops (2 each semester), which is a little disappointing. The polytechnic college (except for our host and the diversity manager) is really uncomfortable with Mz* Baltazar's door policy and doesn't know how to communicate it to their students.
When Mag. Dr. Stefanie Wuschitz MPS personally teaches at the digital art department of the University of Applied Arts, there are usually almost only male students. If she teaches the same thing at the Academy of Fine Arts in the media pedagogy department, there are almost only female (non-binary) students. "It's difficult to translate our door policy and the experience of our workshops to the university framework accurately, but it is still a good experience and a very different environment for students usually," comments  Stefanie Wuschitz.
Which social characteristics are taken into account and what is the geographical area covered?
The location of Mz* Baltazar's Laboratory is in a traditional workers' district of Vienna, where many first generation or second generation Austrians live. The team tries to attract people passing by and girls, women*, non-binary people, transgender persons of all ages and backgrounds. Yet, most of participants are between 18 and 38 years old, white and with some form of education, most even an academic background. It's because M*BL works a lot with universities and art organizations. However, M*BL tries to have women* of color and people with different backgrounds to give workshops, contribute to their program and use it as a platform they can own and use. People older than 50 are rare in the M*BL lab. The team was told that the reason for this was because they do most of their marketing online and digital. Mz* Baltazar's Laboratory does not have the money to print a small booklet about the program, which would make it easier for people who don't have access online platforms. The collective also tries to reach out to refugees when they arrive in Austria. The people who come and contribute to M*BL program are international and workshops are offered in English or German. The workshops are adapted to the place they are invited to, e.g. during a festival in Belgrade. They also had workshops in Serbian and a workshop in Zagreb, and they tried to hold it in Croatian. This has brought in criticism from the right wing party of the district who forced Mz* Baltazar's Laboratory to have more German text on their website.
The workshops are usually held by different artists who explain the technology, which they used or developed to get their artwork done. This way participants can test and learn this technology and learn about the artwork and the artistic approach of each artist. However, it's not always artists who provide workshops - it could also be anyone else, for example people showing M*BL open source software such as the Linux operating system or open street-maps.
On which level is the project implemented?
Please describe the political and socio-economic factors that you believe have been important enablers for your initiative
Did the initiative have political support?
Vienna is a very liberal and Social-Democrat governed city that was, until recently, supporting the M*BL collective. But now with the new extreme right-wing Austrian government, most feminist collectives have lost funding, even the ones that have been around for more than 20 years and who work with homeless women, providing them shelters. So Mz*BL is now losing a lot of funding too and can only continue through collaboration with universities and by also offering exhibitions, because while feminist activism is hardly funded, fine arts is still being funded. Mz* Baltazar's Laboratory also look into crowd-sourcing and other alternative funding options now.
How did it fit with local, regional or national policies?
These funding partners tend to find it difficult to understand who Mz* Baltazar's Laboratory is because they really offer a mix of technology, art and feminist activism. Therefore, the collective tried to get funding for tech, which is easier, even if the work they propose is not only about tech education because their workshops are mostly quite basic compared to university IT courses. Mz* BL tries to source funding in the arts sector, which might be possible, but only if they can prove a classical artistic output, e.g. an art piece as a sculpture or installation, which is sometimes the case and sometimes not. Mz* Baltazar's Laboratory also tried to ask support to the women's department but that was not very successful.
Who are the stakeholders supporting the initiative?
The Austrian Federal Ministry of Education, Science and Research; Media Art Department of the City of Vienna; district government (provided a very small amount last year).
Are there particular demographic changes present that are influencing the project?
People who come to Mz* BL workshops are mostly self-employed and struggling very much to survive. Therefore, it is super important to the collective that the workshops stay free, so that people do not have to pay for any event at our space. The exchange with other people in a similar situation is very helpful and they try to encourage mutual self-help. Jobs, apartments, etc. are easier to find through Mz* BL network. People also tend to collaborate in smaller teams among each other, after they have met in Mz* BL.
What is the institutional strategy and culture of the (educational) organization?
Mz* Baltazar's Laboratory tries to create an open, feminist and non-binary culture around technology and media art. They do not want tech to be male-connoted any longer. Right now, it is still a way to perform masculinity. Instead, the collective wants to establish a culture of diversity that allows all to play with, invent tech, and use it for self-expression and creativity.
"But most of all, we want participants to be in charge of and have ownership of data and information, to be tech-literate, and not be completely dependent on experts. Also to stay critical and demand transparent when it comes to the state (collecting data). We try to make gender invisible during our workshops. If everyone thinks of herself as performing femininity during a tech workshop, then it is rendered invisible as a stigmatizing quality, and instead we want people to relax and focus on their work," says Stefanie Wuschitz (https://adanewmedia.org/2018/05/issue13-savic-wuschitz/)
To what extent does the initiative have an influence on institutional policy (or potential influence) of the (educational) organization?
Mz* BL tries to talk to student union representatives, professors and academic staff. However, the collective is completely outside of these university structures, so universities do not need to listen to Mz* Baltazar's Laboratory if they are not curious.
(Appendix) Is there public support for your initiative and the issue it addresses?
(Appendix) What other factors do you think have been important for the success of this initiative?
Please describe the overall initiative design and the methods and tools used to reach the goals
Please describe the specific activities carried out.
Mz* Baltazar's Laboratory organizes workshops and exhibitions, performances and networking meetings.
What were the key roles (teacher, student, management team etc.) within the project?
Mz* Baltazar's Laboratory identifies itself as inter-sectional feminists, and the team comes from a variety of educational backgrounds. The lab is intended as a safer space for people who have traditionally been excluded from or have felt unsafe in spaces where science is taught, or where technology is being used. The collective invites those people (women and trans* individuals) to participate or give workshops that bring together technology, art, and have a critical understanding of social structures. Mz* BL exhibitions and events are open to all audiences, and are intended to support women* in the broad sense of the political term, and those who work on feminist issues, empowerment, and overturning patriarchy. As a collective, the team is more or less fluid in their composition. Some of the project members travel a lot, others need to take care of families and friends, and almost all of them have a paying job. The team is therefore flexible and tries to support each other in whatever journey they set out. The members come from a variety of linguistic and cultural backgrounds, and some have lived in Vienna longer than others. "Working on, in, and with the collective is a fruitful experience, and a challenge, and we are always happy to meet people interested in working with the collective in whatever capacity they can," says Stefanie Wuschitz.
What ideas, tools, theories, models, methodology (etc.) have been used to reach the goals?
Judith Butler: self-crafting, you can only decide who you are by deciding who you are with and towards who you give account of yourself. Gender is a performance and not something we are born with. We enact it every second of our lives and can become aware of this process and change it. Thinking of technology production as gender performance, and thinking of space as important 'glue' to bring people with different subject position together, make them feel they belong to the space, because they are here, not because of some quality. People who want to pass as women pass as women.
Paulo Freire: your education can liberate you, it can help to get rid of oppressive dynamics.
What are the final revenues of the project?
Please describe if your project ensured its sustainability
If so, how did you ensure the short-term impact of the project?
Mz* Baltazar's Laboratory is always confronted with their precariousness, they don't know if they can continue. But their short-term impact is ensured through one year programs that they apply funding for. The collective tries to get new and young members into their collective to reach different audiences. The collaboration with a lab called ProjectKitchen in a polytechnic college that has only 18% of female students, called FH Technikum (polytechnic college) in Vienna, helps Mz* Baltazar's Laboratory to cover some workshops. In return they try to spread feminism and experimental approaches to tech at FH Technikum.
And how did you ensure the long-term impact of the project?
Mz* Baltazar's Laboratory's long-term strategy is to change the culture around technology to allow people within our society to take a stand towards ethical decisions hiding within technological design decisions. Tech is not neutral or innocent, but very much shaped by the tools and people that design it. Apart from this tech literacy approach, Mz* BL also tries to have more people doing art from a female perspective and taking into account marginalization in their art work - especially feminist and queer feminist issues. Long time strategy is building groups of peers to overcome stereotypes and gender norms.
Has your project been replicated elsewhere?
Please tell us about the resources used in this initiative
What was the budget for the initiative?
The budget varies between 7.000 and 25.000 EUR from one year to the other, on average around 12.000 EUR.
How much did the initiative depend on volunteers?
How were the costs perceived by the public/the sector/other stakeholders?
To what extent did the initiative achieve its objectives?
Please describe the evidence to support the success of your initiative.
Mz* Baltazar's Laboratory created a community of feminist, non-binary and queer artists, technologists and scientists who encourage and enable each other to do their own projects, follow their own ideas and theories, inventions and developments, art work and music. The collective tries to solve internal conflicts productively, seeing them as part of the process and chances to grow. The collective is invited to many festivals and exhibitions (Forum Alpbach, Parallel Art Fair, to nominations for Art Electronica, etc.) and also to talk about their initiative (LISA conference in NYC, National University Taipei, Transmediale Berlin, Fiber Conference Basel, and many others). People approach Mz* BL if they have difficulties developing their projects, or if they would like to start an event that attracts a more diverse and more gender-sensitive audience. Mz* BL is approached by international scholars to write papers together (Majken Overgaard, Copenhagen) and by people who want to collaborate on an event to make their project more inclusive, for example Wikimedia Foundation. The initiative is growing as a collective, becoming more resilient towards challenges. Their exhibitions are quite unique, because it is fine art that is developed by hand through experimental interactive technology, mostly with micro-controllers, chips and computers (e.g. Arduino, LM386, Raspberry Pi), but at the same time have queer feminist and often very personal content. Its feminist issues expressed through innovative technology in creative and playful ways.
Did the intervention lead to any unintended (positive) outcomes?
"I think the whole thing was kind of unintended. It just grew over the years. But the positive aspect is that we thought we were the first and only feminist hacker-space in the world, but it turned out that there were many others worldwide. It makes us really happy if, after one of our workshops in another country, the group of participants starts their own feminist hacker group on site. For example, XXLab in Indonesia or the group of feminist hackers in the hacker-space in Copenhagen," says Stefanie Wuschitz.
What indicators (quantitative and qualitative) have you measured to demonstrate success?
Mz* BL is quite well-known nationally and internationally. The collective has managed to overcome many struggles as a team by building up the organization, but also within their team. People write about Mz* BL and approach them for consulting and advice.
(Appendix) How did you evaluate/monitor this intervention?
https://multinclude.eu/wp-content/uploads/sites/23/2018/10/Laboratory.jpg
800
600
Cecilia Nesler
https://multinclude.eu/wp-content/uploads/sites/23/2019/04/multinclude-za-fb-300x69.png
Cecilia Nesler
2019-02-18 14:47:15
2019-02-18 12:32:05
Mz* Baltazar's Laboratory