Welcome to #MultInclude MOOC

Pathways to Inclusive Education

Pathways to Inclusive Education

Pathways to Inclusive Education
The aim of this self-paced course is to inspire you to enhance inclusion in formal and informal learning environments.
You might be an educational practitioner, working in an NGO, a parent with interest in education or someone with a special interest in inclusive learning.
Here you will have a unique opportunity to learn from fellow practitioners and a number of cases that all aim to strengthen youth, parents and educational practitioners in schools and universities, as well as outside of the formal educational system. The experiences shared in the cases will be supported by more theoretical material such as articles and reports.
MOOC: Pathways to Inclusive Education presents an outcome of the learning journey of #MultInclude Team. It comes after two years of Detecting and Analyzing more than 70 inclusion interventions designed to address the need for more effective and equitable educational systems. Building on these new insights and our expertise in the field, we created the MOOC to assist educational practitioners in finding the best approaches to address the demands of their students.
WHO IS IT FOR?
This course is designed for educational practitioners, but anyone interested in inclusion can take this course and benefit from it!
WHAT IS THE AIM?
The aim of this course is to assist educational practitioners in enhancing inclusion within their institutions or in working with communities.
WHAT ARE THE MODULES?
Each module introduces you to different themes for inclusive education, and you will access a range of different cases and resources on inclusive education.
Module 1: Bridging Gaps
Module 2:  Learning, social skills and learning environment
Module 3: Learning and language
Module 4: Learning through a holistic approach
Module 5: Inclusive learning in a digital space
Module 6: Results and Recommendations from Multinclude
Module 7: Theories
HOW IS IT STRUCTURED?
You can select whatever module interests you, and create your own learning path. OR, if you prefer more structured approach to learning, you can follow paths we created: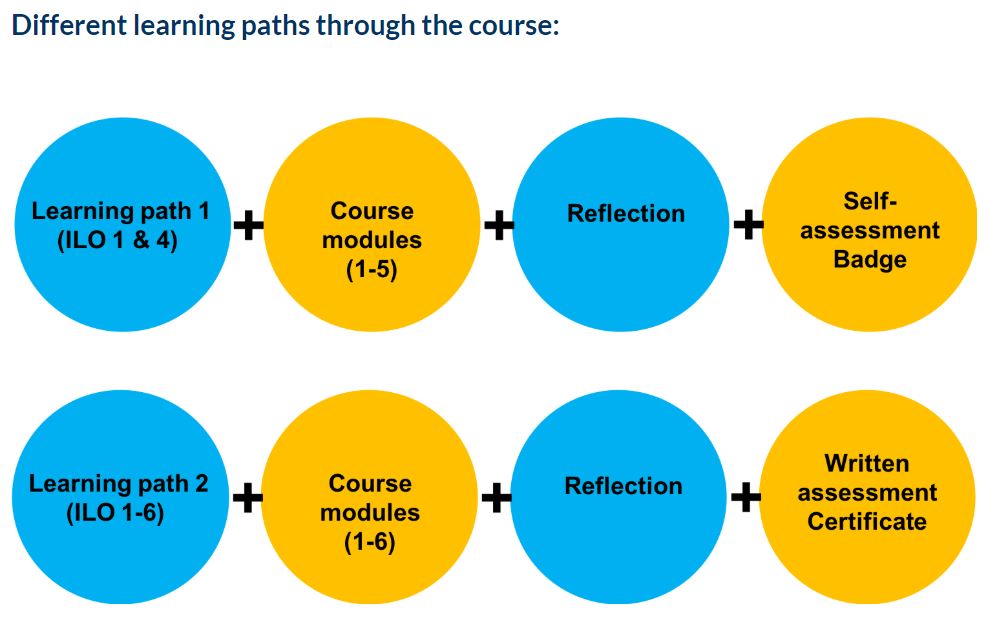 If you get inspired to work further with your institution, we recommend you to follow learning path 2 in which you will write a plan on how to improve your inclusive practice.
WHAT ARE THE FOUR INTENDED LEARNING OUTCOMES (ILO):
You will learn more about inclusion through a unique selection of cases from all over the world addressing different aspects of inclusion in education. You will also gain insight through a more theoretical content and from the outcomes of the analysis within the #MultInclude project.
We have identified four learning outcomes – depending on which modules you choose to follow. With our intended learning outcomes you should:
Better understand the impact of diversity in informal and formal learning environments.
Actively contribute to a learning community that enhances inclusion.
Suggest an inclusion strategy as a starting point to improve inclusive practices.
Create a more inclusive learning environment by using diversity as a strength.
HOW MUCH TIME IS NEEDED TO COMPLETE IT?
As the focus of the course is on your own, individual development we made the MOOC as a self-paced course.
You can choose to complete the modules in order, or to pick and choose a module of your interest.
Each module is designed to take around 3 hours (15 hours in total) to complete, though the number activities can vary from module to module. You can leave a module in the middle of an activity and pick up from there later. However, if you choose learning path 1 or 2 (to get a badge or certificate), we recommend that you use the designed pathway.
If you choose learning path 2, you will have to add another 40 hours to complete the assignment (55 hours in total).