Foundation Year – Boswell-Bèta institute
Excerpt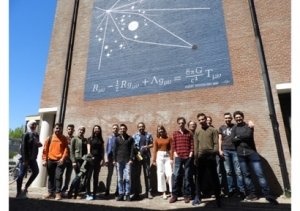 Boswell Beta is a not for profit organization that focuses on preparing students for higher education. Together with UAF, a scholarship program specifically designed for refugees, Boswell Beta started the Foundation Year in order to speed up the process for refugee to meet the requirements to attend higher education.
Boswell-Bèta is a not-for-profit organisation that encourages wider participation in higher education. Boswell-Bèta has been offering science access courses for Utrecht University for over 35 years. As the science department of the James-Boswell institute (Utrecht University), which offered supporting science and language courses for university staff and students, the institution has been specialising in science courses to prospective medicine students and other students who wanted to pursue higher education in the Netherlands but didn't meet the requirements to enter university. In September 2012, Boswell-Bèta has been spun off to function as a national centre for access education with a specific focus on science access courses.
Narrative, origins and objectives of the initiative
What kind of project is this? Please give a short description (summary) of it.
The Foundation Year of Boswell-Bèta institute is an educational programme for refugee students who want to start a biomedical or technical study in a Dutch higher education institution. Many refugee students have (almost) finished high school and/or university in their home country. Unfortunately, by many universities and universities in the Netherlands don't consider their diploma as valid or sufficient for access to their desired study. The Boswell-Bèta Institute offers these students a complete preparatory program where they can gain the certificates needed for admittance to various studies in higher education.
The Foundation Year is a programme aimed at refugee students to help them overcome challenges and successfully enroll in a technical or biomedical study in Dutch higher education. Firstly, participants obtain certificates that grants them admission to higher education institutes. Secondly, students are guided throughout the year in developing their knowledge and cognitive skills to close the gap in educational culture. It offers courses and modules in language, mathematical and academic skills. Students that excel during the Foundation Year have the option to specialize further with courses in physics, chemistry and biology, allowing them to pursue a career in the technical or biomedical sector. Combined with this specialization, the Foundation Year offers a learning environment where the ability of studying independently is a central feature.
Please tell us why, in general, this project is considered a successful one?
Refugees with a background in the exact sciences encounter several barriers when they seek entry to universities in the Netherlands: learning the Dutch language, dealing with personal circumstances, integrating into Dutch society as well as bridging the educational gap. Many refugee students have (almost) finished high school and/or university in their home country. Unfortunately, according to many research universities and universities of applied sciences in the Netherlands, their diploma is seen as not sufficient for access to their desired study. In the experience of Boswell-Bèta, this educational gap occurs on two levels: refugee students do not possess legitimate certificates for admission, and many of them originate from a different educational culture and tradition. Most Dutch universities and universities of applied sciences do not offer programs preparing these students for their desired study and overcome this educational gap. Boswell-Bèta aims to give refugee students the possibility to enter an education at their own level by offering access education and supporting students in finding their way to the university of their choice.
And why would you consider it a grass-roots initiative?
There has recently been a strong growth in the number of refugees in the Netherlands. These people need support to be able to reach their full potential and be successful in Dutch education and the labor market. Many people that fled to the Netherlands are talented, educated young people that have a lot to offer to Dutch society. Higher education plays an important role in preparing refugees for a valuable role in society and the labor market. However, refugee students have an extra need for language lessons, training, student counseling and assistance in the transition to higher education and the labor market. Unfortunately, there is no regulated national governmental approach to prepare and support this group of potential students for the Dutch higher education and the labor market. Universities and other educational institutions or organizations are not obligated to support these students in entering higher education. Fortunately, some educational institutions and organizations noticed the importance and benefits of a successful transition of refugee students in higher education. Different initiatives, like the Foundation Year of Boswell-Bèta, were recently introduced to help refugee students succeed in higher education. 
What challenges needed to be solved in this project?
The organization of a foundation year for refugee students was and still is a process that faces many barriers.
- Determine whether a student is fit for the program.
The target group of highly educated refugee students with a technical or biomedical study background is still a very diverse group with many different ages, cultures, personal circumstances, study backgrounds, experiences and so on. They are all individual students with their own characteristics and needs. This makes it difficult to properly determine whether a student is suitable for the Foundation Year. When a student wants to participate in the programme, he or she requires a certain level of Dutch, English and Math as well as pre-education to be able to succeed during the program. There is still little knowledge about the education system in the Middle East and other non-western countries and the standard of diplomas are not always easy to determine. In addition, there are many students who have not been able to finish secondary education in their home country due to war other circumstances. Therefore, some students have no documents to show their level of pre-education. To select suitable students for the program, Boswell-Bèta organizes a selection procedure that all students need to follow when they apply for the Foundation Year. During an intake day before the start of the Foundation Year, teachers that are involved in the program measure the level of English, Dutch and Mathematics of all the students who want to participate in the program and estimate the level of these specific skills. In addition, conversations take place in Dutch and Arabic about the choice of study, motivation and preliminary training of students to gain insights into whether the student fits the offered program.
- Expectation management and awareness of possibilities in Dutch higher education
Many of the students taking part in the Foundation Year have the ambition to choose relatively difficult and popular studies, such as medicine or dentistry. The selection procedure for these studies, however, is very strict and chances of admission are relatively small. Many students are less aware of the difficulty of these selection procedures and of the many other possibilities within higher education in the Netherlands. To ensure students are aware of this, Boswell-Bèta offers a study choice course as part of the Foundation Year. During this course students receive more information about the different possibilities within higher education, the importance of a plan B, selection procedures and so on.
- Balanced student counseling
Each student has his/her own specific needs - it all depends on their personal circumstances, educational and cultural background, age, experience in studying at a higher education institution and so on. Some students will need more guidance than others - depending on these specific needs. It is a challenge to maintain the right balance between stimulating independence (to prepare them for university) and the right amount of support.
- Educational culture
Students need to adapt to the educational culture in the Netherlands. An example is that Dutch educational system focuses a lot on developing skills like critical thinking and problem solving, and to a lesser extend on the reproduction of knowledge.
Is this initiative based on any particular theoretical framework? Which one?
(Appendix) Is your intervention standing on its own or is it a part of a bigger and more holistic approach?
Please describe the group(s) intended as beneficiaries of this initiative
Why has this group (have these groups) been chosen?
The Foundation Year is designed for refugee students who have (almost) finished high school and/or university in their own country, and who want to continue their studies in a Dutch technical or biomedical higher education. To ensure successful participation in the courses that form part of the Foundation Year, a certain level of Maths, Dutch and English is required. Therefore, a sufficient level of Maths education is required. Next to this, the program demands a Dutch level of at least level B1 and an English level of at least level B1.
Could you please tell us something about the relative size of the (of each) target group, within the school/university population, region and/or country?
An amount of 46 students enrolled in September 2017. In January 2018, 23 students enrolled and 50 more students enrolled in September 2018. Most students are Syrian, but students from Iran and Eritrea also participate in the program.
Which social characteristics are taken into account and what is the geographical area covered?
The Foundation Year is essentially available to all refugee students from the Netherlands since it prepares students for different Dutch (higher) educational institutions. The Netherlands is thus geographically covered.
On which level is the project implemented?
Please describe the political and socio-economic factors that you believe have been important enablers for your initiative
Did the initiative have political support?
Boswell-Bèta is a non-profit organization that started the Foundation Year without any political support. The courses of the program are financed by UAF, an organization that supports refugees with grants and loans, to attend higher education. These funds are for tuition fees, language courses, books, a computer, travelling expenses and other costs related to their studies. UAF receives financial support from the Dutch Ministry of Education.
How did it fit with local, regional or national policies?
In January 2015 the Dutch Act of Participation was introduced, which obliges municipalities to guide refugees to paid work as quickly as possible. Municipalities can implement their own approach to this law, which will lead to different outcomes for young refugees. Some municipalities invest in training and education while other municipalities force refugees to accept any kind of work without investing in any training or education. 
Who are the stakeholders supporting the initiative?
Boswell-Bèta set up the Foundation Year for refugee students in collaboration with multiple universities, language institutes and training agencies in the Netherlands (like Utrecht University, research center RISBO, language institution Lestbest and ULAC). Last year, Boswell-Bèta started collaborating with Tilburg University and Erasmus University of Rotterdam. These three educational institutions created a collective intake procedure and developed a lay-out for the Foundation Year. The base-year is situated within the context of the institution (Tilburg, Rotterdam or Utrecht) that is closest to the students' residency to keep travel costs as low as possible. This collective base-year has already stared in three cities. Next year, the specialization year will start in Utrecht.
Are there particular demographic changes present that are influencing the project?
Some relevant demographic changes are growing trends of internationalization of Dutch higher education. The Dutch educational system focuses mainly on supporting Dutch native students and international students and less on the specific needs of refugee students. For the past couple of years, the Netherlands has been subjected to relatively increased influx of refugees - many of which are higher educated. In order to contribute to successful integration, provide housing, improve language skills and study support, almost all research universities and universities of applied sciences started some initiatives specifically for this target group. However, some of these universities lack the necessary knowledge and insights necessary to analyse the study backgrounds of refugee students.
What is the institutional strategy and culture of the (educational) organization?
The institutional strategy and culture of Boswell-Bèta is focused on providing students with small-scale, individualized, informal and accessible support. Students know their way to the teachers, the classrooms as well as the rest of the organization. They are supported to come in any time, to ask questions or just chat for a bit. For students there are many different opportunities for individual support, organized walk-in hours, the study-lab and tutoring.
To what extent does the initiative have an influence on institutional policy (or potential influence) of the (educational) organization?
The program has become an integrated part of Boswell-Bèta but remains dependent on funding from external parties like the UAF.
(Appendix) Is there public support for your initiative and the issue it addresses?
(Appendix) What other factors do you think have been important for the success of this initiative?
Please describe the overall initiative design and the methods and tools used to reach the goals
Please describe the specific activities carried out.
The Foundation consists of two parts: a base year and a specialization year.
1. The base year
The base year offers courses that are necessary for admission to any university or university of applied sciences in the Netherlands:
Basic Mathematical Skills
Mathematics B
Study Skills
Dutch level B1-B2 + exam training
English level B1-B2 + IELTS/TOEFL exam training
2. Specialization year
After successfully completing the base year, students can start with additional courses for technical or biomedical studies.
Technical specialization
Physics is a requirement for admission for most technical studies. This course can be taken within the base year. The preparation for a technical study takes one year in total.
Biomedical specialization
For biomedical studies students need multiple additional courses for admission:
Physics
Chemistry
Biology
Dutch level C1 (not mandatory, but desirable)
This takes another year, on top of the base year. In total, the preparation for a biomedical study takes two years.
Intake procedure
Students that apply for the program take part in an intake day before the start of the Foundation Year. During this intake, the mathematical skills and levels of Dutch and English will be measured (both orally as well as written). Two short interviews will also be held regarding the previous education, but also the choice of study and motivation of the student.
Format
Depending on the courses you take: the entire program to ensure access to higher education will take between six months and two years. The courses are scheduled between Monday and Friday and, if necessary, also on Saturdays.
What were the key roles (teacher, student, management team etc.) within the project?
Students
Teachers
The program coordinator
The tutor
External parties
RISBO: for study skills
Lesbest: for Dutch language courses
ULAC: for English language courses.
What ideas, tools, theories, models, methodology (etc.) have been used to reach the goals?
What are the final revenues of the project?
Please describe if your project ensured its sustainability
If so, how did you ensure the short-term impact of the project?
The short-term impact of the project is measured by checking to what extent the students meet the admission requirements that are necessary for the studies of their choice. Also, students achieve the necessary high school level certificates that ensure access to higher education.
And how did you ensure the long-term impact of the project?
The long-term impact of the project is ensured by creating sustainable partnerships and relations within the context of the broader Dutch educational system. Therefore, a joint and collective effort is important to ensure access and prepare refugee students for higher education.
Has your project been replicated elsewhere?
Please tell us about the resources used in this initiative
What was the budget for the initiative?
The website of Boswell-Bèta lists all the fees for the different courses. Boswell-Bèta's Foundation Year program consists of one foundation year and one specialization year that include a package of courses in the sciences (mathematics, biology, physics and chemistry) as well as language courses (Dutch and English). The UAF, the organization that finances education for refugee students in the Netherlands, is granted a special discount and pays prices per individual students. The subsidized costs per students vary and are dependent on the different courses that students have to be enrolled in, in order to be fully prepared for the Dutch educational system. However, the costs for the mandatory Dutch language course as part of the integration policy of the Dutch government is not incorporated in this package since these courses are not provided at Boswell-Bèta. These costs are paid for by the students themselves, or funding can be granted in terms of a loan provided by the Dutch governmental institution DUO as part of national integration policy. Boswell-Bèta finances all other necessary material costs, costs for tutoring, teaching, and the coordination of the program.
How much did the initiative depend on volunteers?
How were the costs perceived by the public/the sector/other stakeholders?
To what extent did the initiative achieve its objectives?
Please describe the evidence to support the success of your initiative.
Most students who participated in the Foundation Year are currently enrolled in higher education. No data is available regarding the successes in further education of student participants in the Foundation Year. It is estimated that roughly 80% of all students who start with the Foundation Year, also finish it and maintain one or more qualifications to ensure a transition to the Dutch educational system. Of those 80%, some are delayed due to unforeseen or personal circumstances, or because they switched levels. About 15-20% of the students who start with the Foundation Year drops out and don't finish the courses.
Did the intervention lead to any unintended (positive) outcomes?
Many students eventually chose a different career/field of study than their initial choice. Only 20% of all students started studying their first choice.
What indicators (quantitative and qualitative) have you measured to demonstrate success?
Success is measured by using evaluation forms that students submit at the end of every course. Also, during the course of the program students are continuously interviewed. Lastly, one of the most important measurements of success are the numbers of students that are enrolled in higher education programs.
(Appendix) How did you evaluate/monitor this intervention?
https://multinclude.eu/wp-content/uploads/sites/23/2019/04/multinclude-za-fb-300x69.png
0
0
Josefien van Marlen
https://multinclude.eu/wp-content/uploads/sites/23/2019/04/multinclude-za-fb-300x69.png
Josefien van Marlen
2019-01-28 13:34:15
2019-01-15 11:51:37
Foundation Year – Boswell-Bèta institute